Fall 2014 Boys and Girl's Club Soccer Championship Winners.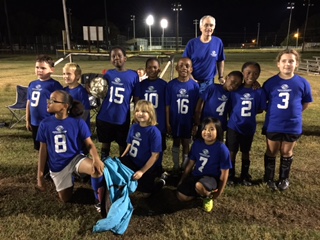 A coed-team, coached by Patrick A. McGuire and Shanna Abbott, Assistant Coach, who prevailed over an all boy's team with an overtime score of 3-1.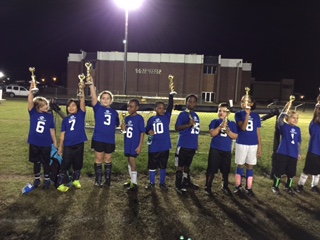 Due to inclement weather, this winning team played both semi-finals and finals in one evening with a five minute rest between games.
Soccer
3Ring Soccer was initially designed and built to function with almost no funding from the parent, school, or city. It is the only program that carries a Benefits Formula back to the individuals that play it, and to the clubs and teams that support those players.
Parents do not need to finance expensive ($500.00 plus) weekends away from home for their child to participate.
3Ring Soccer never even requires spending the night away from home or missing church on Sunday but distance traveled by teams on special occasions is rewarding and educational.
3Ring Soccer does not require normal team considerations. It provides the flexibility to allow roster changes, as well as the ability to skip desired weekends so that family life may continue.
3Ring Soccer combines individual development with team play on a level comparable to each players current skill level. Normal play is balanced and fair competition of like soccer skills on 6 person teams. As combinations can provide a system for 11 vs. 11 games on a full field play balance can vary.
The web-based teams of 3Ring Soccer allows the individual to participate alone, as well as teams and monitor their progress on a competitive rolling statistics grid within their own team or local club.
3Ring Soccer is a comprehensive, year-round program of 3 levels: Club, Team, and Individual. A unique characteristic makes it possible to play, or not, as much as your family situation dictates without adversely affecting other members of a team.
In 3Ring Soccer it is possible to change your rosters internally each week of 26 players for patch/logo teams. This system has a zero cost on club rosters registration to 3Ring Soccer, except, that their organization carries it. If not, you can register within our insurance policy if a club does not exist in your area.
3Ring Soccer multiple game variations start at 60 to 100 minutes for actual playing time. Total time commitment is from 2 hours to 4 hours, determined by the host.
Age Groups
9-10 (Advanced 3rd graders and all 4th graders) 11-12 (5th and 6th graders) 13-14 (7th and 8th graders) 15-16 (High School) 17-18 (High School) 19 and up (Collegiate) A roster of 6 competes against like competition after they obtain a skill level or rank high enough to enter a local ladder, league ladder, state ladder and beyond. We have more ladders than a player has time to climb them.
A roster can play as few as 6 plays three separate games that require the players to use different skills throught the competition or split an event for full games.